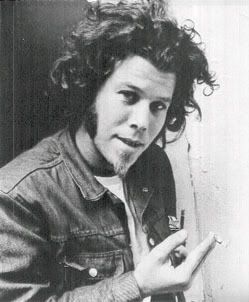 A friend of mine found this interesting Tom Waits radio
appearance
from 1974. You can download the whole thing for free. 
Waits's second album, 
The Heart of Saturday Night
, has been recorded but not yet released at this point. Waits is 24 years old but sounds even younger than that. He's still working out his persona here, trying out differing vocal registers as he talks and sings. He plays acoustic guitar at the beginning of the show then switches over to piano. He says he's read everything by Jack Kerouac, and that Charles Bukowski is in the vanguard of American literature in his opinion. He mentions Randy Newman and Mose Allison as songwriters he admires, along with Cole Porter and Irving Berlin. 
There's a very rough version of "Better Off Without a Wife" here, with guitar, and a performance of "Diamonds on My Windshield" without any musical accompaniment. Waits describes "On a Foggy Night" as a soundtrack for a movie that came out 25 years earlier, which come to think of it is a good description for much of his early work.
If you have the two "Early Years" volumes and this radio show, you could just about cobble together a complete alternate version of
The Heart of Saturday Night
, a version stripped of the strings that make that album one of my least favorite in Waits's catalog.